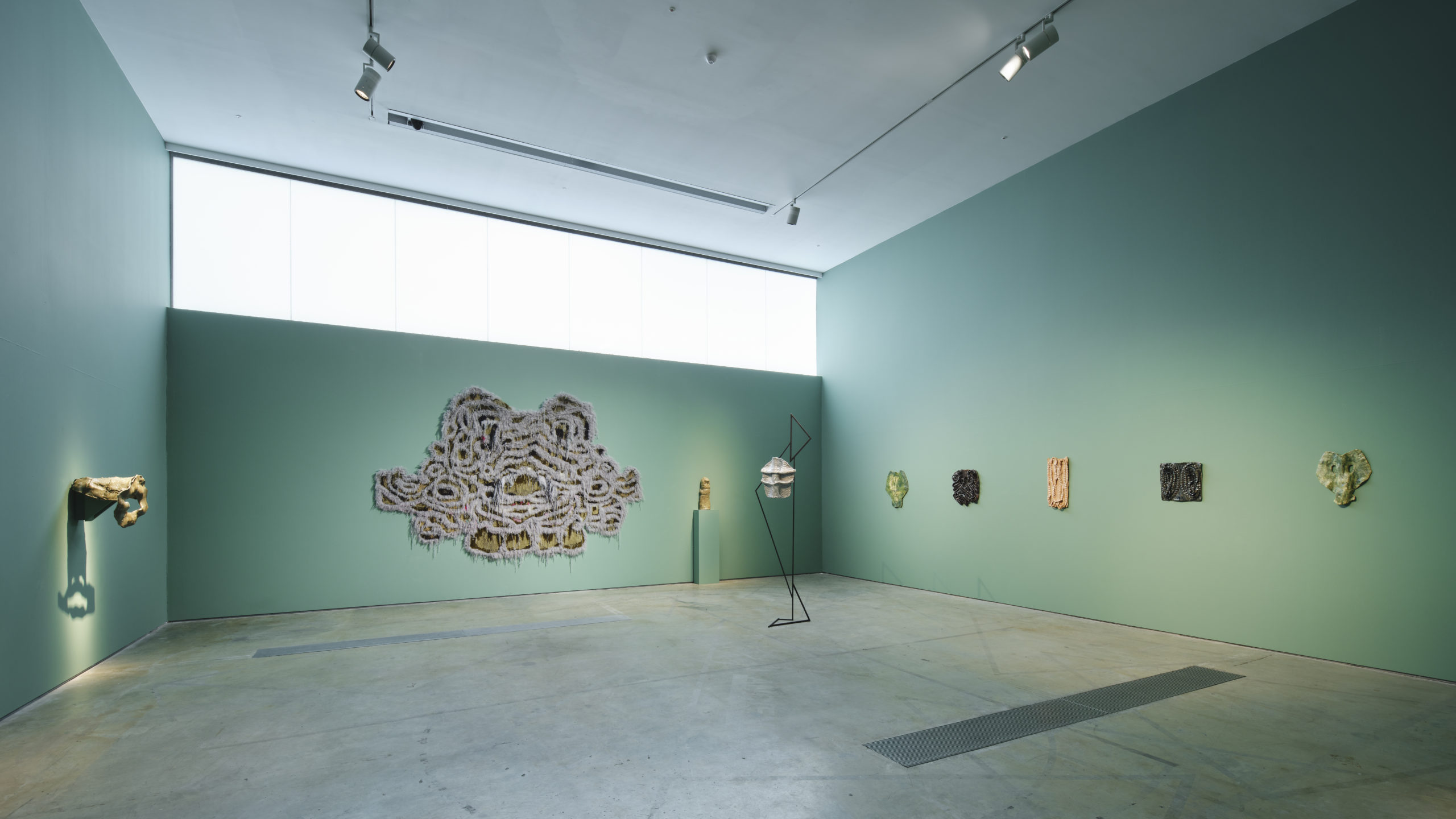 Biography
Born in France in 1969, raised in Germany and based in England, Caroline Achaintre attended the Kunsthochschule in Halle, then the Chelsea College of Art and Design, and the Goldsmiths University of London. The artist is nourished by multiple and radically different cultural references that influence her approach. With her sculptures made of wool, ceramic and with her watercolours, the artist appropriates each space to install her hybrid creatures, transforming the exhibition space into a theater where a dialogue between different characters half-fantastic, half-ghostly can take place. Inspired at once by European carnivals, primitivism, German Expressionism and science fiction, Caroline Achaintre's work on the one hand evokes the possible coexistence of several characters within a same being as well as the tensions generated by duality. No precise indication is given as to how to approach the work of Achaintre. We see in turn a mask, a garment, an animal… Her works have the particular feature of being difficult to define. At once abstract and figurative, they reveal anthropomorphic forms and indicate a particular interest for animism. The mutation of forms and the plurality of possible interpretations engage the mind and the whim of the viewer. This is the strength of Caroline Achaintre's work: to question our own capacity to be in the world as individuals defined by complex and multiple identities.
Her work is part of numerous public collections among which: CAPC, Bordeaux/FR; Tate Britain, Londres/UK; Musée d'Art Moderne de la Ville de Paris, Paris; Centre national des arts plastiques, Paris; FRAC Aquitaine, Bordeaux, and FRAC Champagne-Ardenne, Reims.
Selected solo exhibitions: Kunstmuseum Ravensburg/Centre d'art Pasquart/CH (2021-2022), CAPC, Bordeaux/FR (2020-21), MO.CO., Montpellier/FR (2019); Belvedere 21, Vienna/AU (2019); De La Warr Pavilion, Bexhill-on-sea/UK (2018); FRAC Champagne-Ardenne, Reims/FR (2017); BALTIC, Centre for Contemporary Art, Gateshead/UK (2016); Tate Britain, London/UK (2015); Castello di Rivoli, Turin/IT (2013).
At the gallery
Video
Links