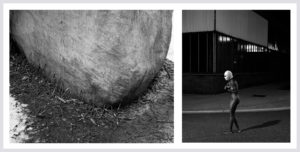 Biography
In his extensive work, Goiris deals with the possible loss of the world as we know it. On his travels, he captures deserted landscapes, strange rock formations, gnarled trees, and mysterious artefacts with the precision of his large-format camera, imparting them a fascinating physical presence. Objects and landscapes in his photographs are made to appear like melancholy carriers of secrets, impossible to be classified in terms of time or space. The combination of accurate reproduction with the bizarre nature of motifs not only captivates the viewer's gaze but stimulates our reflections on the state of the world. His images are intentionally unpinned from a specific era, giving the feeling of looking at the past and the future simultaneously. They unite references to exemplary works of photography and traditions in painting without committing to specific genres or pictorial motifs.
His work is present, among others, in the following collections: Seattle Art Museum, Seattle; Hamburger Kunsthalle, Hamburg; Museum of photography, Antwerp; Centro de Arte Caja de Burgos, Spain; Musée d'Art Moderne de la Ville de Paris; Centre National des Arts Plastiques, Paris; Direction des Affaires culturelles de la Ville de Paris; Deutsche BÖRSE AG, Germany.
Selected exhibitions: Word Without Us, Biennale de la photographie de Mulhouse, Caserne des pompiers, Hombourg/FR (public space)(2020); Silent Earth, Deutsche Börse AG, The Cube, Eschborn (2020); World Without Us, Royal Academy of Fine Arts, Anvers (2018); Geert Goiris, Musée de Bagnes, Bagnes (curators : Jean-Paul Felley & Olivier Kaeser) (2014); Geert Goiris, M – Museum, Leuven (2013); Le Silence. Une fiction, Villa Paloma, Nouveau Musée National de Monaco, Monaco (2012); The eye is a lonely hunter: images of humankind, The 4th edition of the Fotofestival Mannheim – Wilhelm Hack Museum, Ludwigshafen (2011); Whiteout and other stories, Hamburger Kunsthalle, Hamburg (2010); Fresh Hell, Carte Blanche à Adam McEwen, Palais de Tokyo, Paris (2010).
At the gallery
Downloads