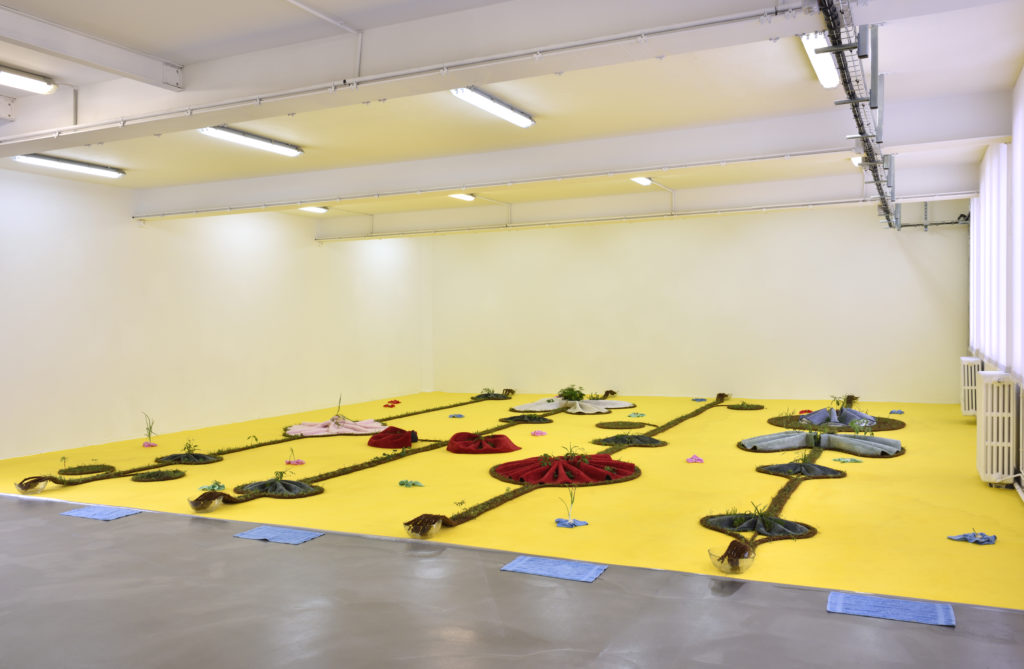 Biography
Since his studies at the Villa Arson in the 90s, the artist has been working with organic materials and is interested in exploring the beauty of decay and the poetic possibilities of the passing of time as these materials are allowed to deteriorate over the course of an exhibition.
The artist's repertoire to date has included a large mushroom-like form made entirely of soy noodles; sculptures constructed of squeezed-out orange halves; paintings of mashed potato and beetroot purée; pizza paintings and pasta sculptures, and a sculptural grotto on which mung beans sprouted and grew over the period of display. Opening up the controlled environment of the museum to the unpredictability of natural processes and effectively creating a multi-sensory and ever-changing experience as these perishable materials physically change, Blazy's installations encourage audiences to question notions of repulsion and disgust and re-think our assumptions about aesthetic beauty.*
His work has been purchased by numerous public collections among which: The National Museum of Modern Art – Centre Pompidou; the Museum of Old and New Art (MONA), Tasmania; the Museum of Modern Art of the City of Paris, France; the New Museum of Monaco and several regional funds for contemporary art (FRAC).
Several personal exhibitions have been consecrated to his work in the last years, among them: Multiverse, La Loge, Brussels (2019); We Were The Robots, Moody Center for the Arts, Houston, TX (2019); Living Room II, Maison Hermès, Tokyo (2016); Pull Over Time, Art : Concept, Paris (2015); Bouquet Final 3, National Gallery of Victoria; Melbourne White Night (2013); Le Grand Restaurant, Frac Île-de-France, Paris (2012); Post Patman, Palais de Tokyo, Paris (2007). Michel Blazy's work was part of the exhibition Viva Arte Viva, curated by Christine Macel during the 57th Venice Biennale.
*Text by the National Gallery of Victoria/AU
At the gallery
Video
Downloads