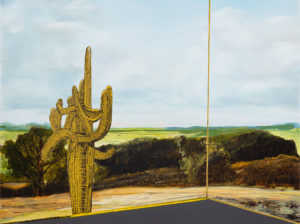 Biography
Born in 1976, Whitney Bedford lives and works in Los Angeles. Bedford uses her own mark making to bring the original source material of her paintings into the realm of the imaginary. Layered with both ink and oil paint, romantic scenes of destruction, calm at sea, and migrating birds are manipulated to the point of abstraction, showing only vestiges of her starting point.

Bedford's process has shifted in her recent works. In past paintings, drawing was used to create an architecture for gesture. Now, though the paintings technically begin with the drawings, a painstaking process of masking and unmasking pushes the drawn flora to the fore and places the viewer at a further distance from the pastoral scenes behind or outside of the space of drawing. The distance created between painting and drawing underscores Bedford's archival research and careful selection of images that seem to belong to a lost or disappearing world. Her new drawings are part of an encyclopeadic exercise the artist is pursuing. Every day she draws a woman who persisted in solidarity and to continue unwavering support of women who are challenging the world to be better. She considers these to be votives of support, and part of the proceeds will go in donation to Emily's List, helping elect anti-racist progressive Democratic female candidates.
Her work is present in several international collections such as: Eric Decelle, Brussels, Belgium; Francois Pinault Collection, Paris, FR; Ginette Moulin and Guillaume Houzé Contemporary Art Collection, Paris, FR; Hammer Museum, Hammer Contemporary Collection, Los Angeles, US; Jumex Collection, Mexico City, MX; Rosa and Carlos de la Cruz, Miami, US; and The Saatchi Gallery, London, UK. Awards: UCLA Hammer Museum Drawing Biennal, Los Angeles (2001); Peggy Guggenheim Studentship, Venice (1997).
Selected solo exhibitions include: Vielmetter, Los Angeles (2020); Carrie Secrist Gallery, Chicago (2018); Saatchi Gallery, London (2018); Starkwhite, Auckland (2016); Taymour Grahne, New York (2015) Vielmetter, Los Angeles (2011), Houdini: Art and Magic, Jewish Museum, New York (2010).
At the gallery
Downloads