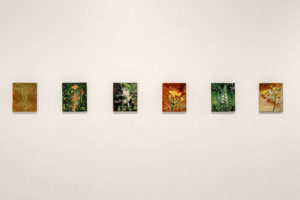 Biography
Born in 1977 in Brive La Gaillarde, Julien Audebert lives and works in Paris. Following different processes around photography, installation and text, the artist puts the mixing of visible and legible to the test. Whether dealing with cinema or photojournalism, History is the main subject of Julien Audebert's work. He splits it into periods, segmenting its course to retain only its key moments or conflagrations. His proposals very often are materialisations of a point of tension (or a climax to use the language of cinema) of a political or military nature, in which geographical characteristics play a special role.
His most recent series of paintings "Les Obsidionales" are small format oil paintings on copper which were produced following Audebert's work entitled "Les Nocturnes." Here the flowers have been literally bought back from war (the wars of the 19th and 20th centuries), transported on the soles of shoes of the soldiers, in their hair and on their flesh. They are thus flowers of war, framed in the center, like a child would. This work also comes from the tradition of painting on wood panels, essentially in northern Europe that the artist discovered in Belgium and Holland. This practice is close to enamel or to silver smithery.
His work is present, among others, in the following collections: Fonds National d'Art Contemporain, Paris; FRAC Auvergne; FRAC Haute-Normandie; FRAC Languedoc-Roussillon; FRAC Pays de La Loire; The Israel Museum, Jerusalem. Solo exhibitions include: L'atelier fermé, commande publique de la commune de Varengeville, dans le cadre du cinquantenaire de la mort de Georges Braque, Varengeville/FR (2012); Les Jeux funéraires, Art:Concept, Paris (2011); Fort du Taureau, In Extenso, Clermont-Ferrand (2009). Selected group exhibitions/festivals: Acta est fabula, École des beaux-arts de Nîmes/FR (2019); Pool Internationales, TanzFilmFestival Berlin, Dock 11, Berlin/DE (2019); The LA Dance, Film Festival, Los Angeles/US (2018); Mars et Venus, Phases d'Oppositions, le Portland Danse Film Fest 2017, Portland/US (2017).
At the gallery
Videos
Downloads