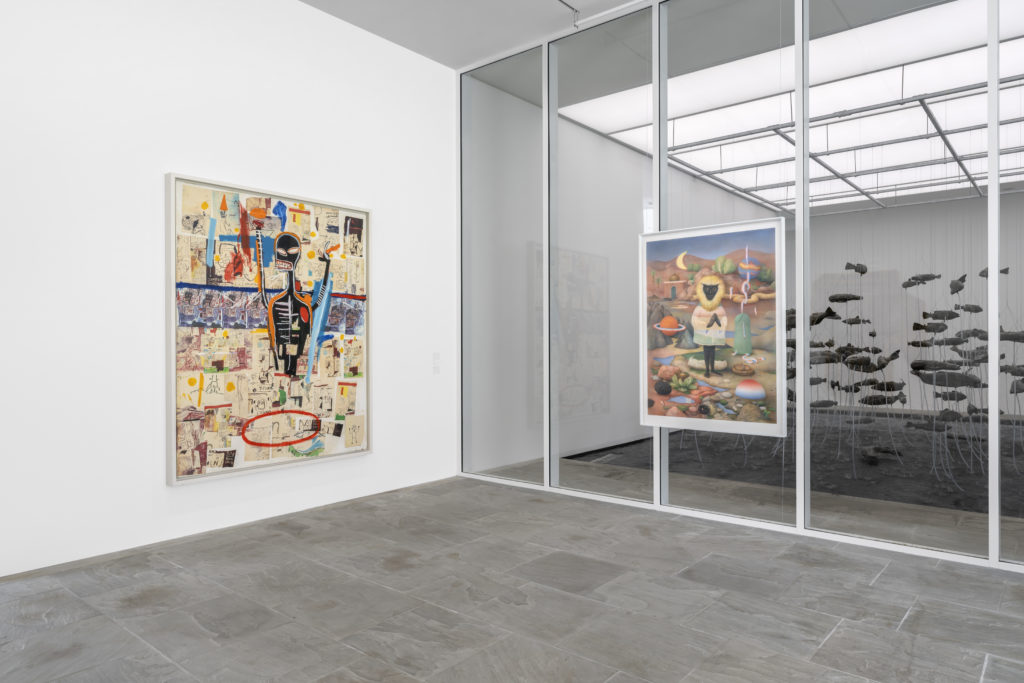 Biography
Born in 1980 in Metz (France), Corentin Grossman lives and works in Bruxelles.
The universe of Corentin Grossman mixes various iconographic influences, from medieval painting to popular arts, images of record sleeves, to 3D modeling products. From Jérôme Bosch to Brueghel, the Elder marked the artist, who often likes to develop compositions in which a multitude of disparate elements are arranged. If the surreal and dreamlike dimension seems obvious, his work is also anchored in reality, woven with references to current events such as the earthquake which struck Haiti in 2011, or more generally the phenomena related to globalization.*
"If I refer to a local, partial, tiny, or very short reality, it is better to register it in the interdependent and infinitely complex movements of the countless elements that make up our cosmos. The ambiguity of the approach also lies in this thought, the structuring tendency of which is doomed to failure in advance. It can be a question, not without humor, of the lightest and most serious thing at the same time. Relating them to eachother, without any hierarchy, is a poetry that I like." – Corentin Grossmann
Corentin Grossmann's work has been presented in the following institutions: Fondation Carmignac (2022, 2023); Wiels, Bruxelles/BE (2021); Centre Pompidou, Metz/FR (2020); le Palais de Tokyo, Paris/FR (2019-2020); Les Magasins Généraux, Pantin/FR (2019); CAC – la synagogue de Delme, Delme/FR (2018); Le 19, CRAC, Montbéliard/FR (2016); Consortium, Dijon/FR (2012); la Fondation Ricard, Paris/FR (2011); Musée des Beaux-arts de Nancy, Nancy/FR (2010). Recent solo exhibitions include: Corentin Grossmann, curated by Cay-Sophie Rabinowitz, OSMOS, New York/us (2019); La Tentation du Sens, Galerie Jean Roch Dard, Paris/FR (2014); Grey Flags, Galerie Backslash, Paris/FR (2014); Notre Monde, Galerie Jean Roch Dard, Paris/FR (2011).
*Text from catalogue Futures of Love, Édition Magasins généraux, Paris, 2019.
At the gallery
Links
Downloads