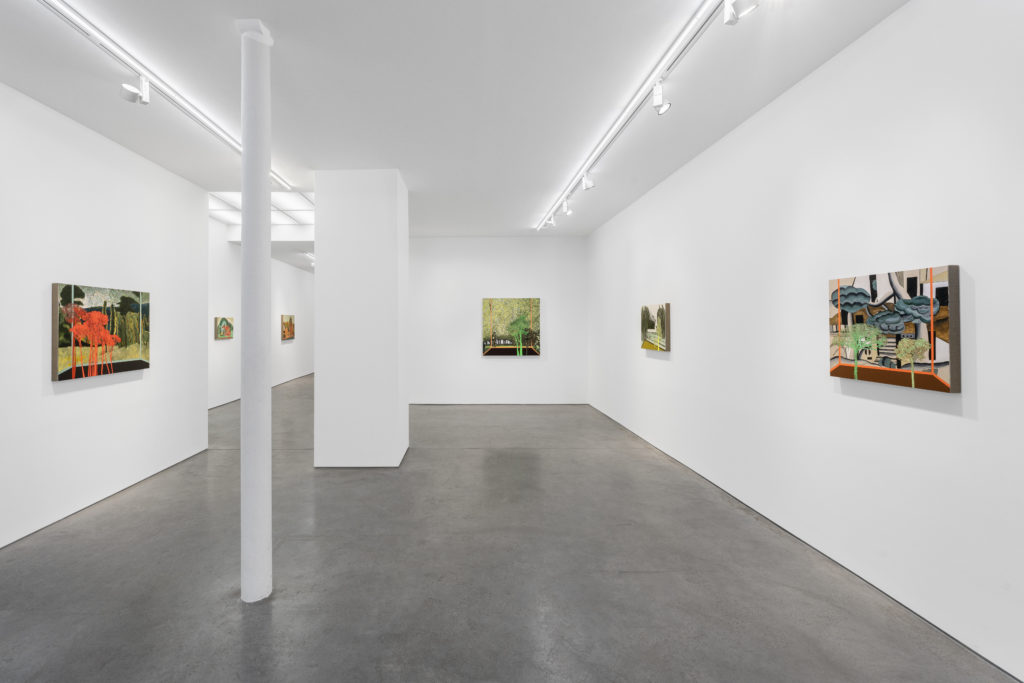 Biography
Born in 1976, Whitney Bedford lives and works in Los Angeles.
"The artist's latest series brings together what she calls Vedute, a series of landscape paintings inspired by late nineteenth and early twentieth century masters – from Degas to Sérusier, Klimt or Van Gogh. As with her paintings of shipwrecks, icebergs, and rainforests, the California-based artist reappropriates this historical legacy and uses it as references for her autobiographical landscapes, which work as contemporary allegories of social and environmental experiences." *
Her last works are also the result of a new working process. In the earlier paintings, drawing was used to create an architecture of gesture. From now on, although the drawing is still at the origin of her paintings from a technical point of view, she invents a meticulous process of masking and unmasking that puts the drawn flowers in the foreground. The pastoral scenes, pushed behind or outside the drawing space, seem more distant. The distance thus created between the painting and the drawing underlines the artist's search for archives and the rigorous selection of images that seem to belong to a lost or even disappearing world.
On top of her painting practice, she pursues since 2020 an encyclopedic work that consists in drawing a female figure every day, chosen for her determination to make the world a better place. This tirelessly repeated gesture is a sign of solidarity and relentless support for the women who raise their voices. She considers these portraits, systematically posted on Instagram, as votive images, part of the proceeds of which will be donated to the Emily's List action committee, which helps to elect progressive, anti-racist Democratic candidates.
* Extract of the press release of her latest show at Art : Concept, 2022.
Her work is present in several international collections such as: Eric Decelle, Brussels, Belgium; Francois Pinault Collection, Paris, FR; Ginette Moulin and Guillaume Houzé Contemporary Art Collection, Paris, FR; Hammer Museum, Hammer Contemporary Collection, Los Angeles, US; Jumex Collection, Mexico City, MX; Marciano Art Foundation, Los Angeles, CA; Rosa and Carlos de la Cruz, Miami, US; and The Saatchi Gallery, London, UK. Awards: UCLA Hammer Museum Drawing Biennal, Los Angeles (2001); Peggy Guggenheim Studentship, Venice (1997).
Selected solo exhibitions include: Miles McEnery Gallery, New York (2021); Vielmetter, Los Angeles (2020, 2021 and 2023); Carrie Secrist Gallery, Chicago (2018); Saatchi Gallery, London (2018); Starkwhite, Auckland (2016); Taymour Grahne, New York (2015); Vielmetter, Los Angeles (2011), Houdini: Art and Magic, Jewish Museum, New York (2010).
At the gallery
Downloads