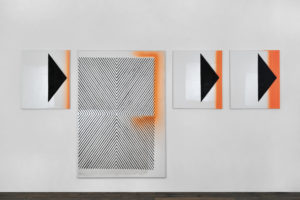 Biography
Born in 1978 in Fergus Falls (Minnesota), Nathan Hylden lives and works in Los Angeles. His work deals with issues of temporality and the idea of rationality related to the creative act in itself. Playing with codes similar to those that can be met in the cinematographic industry, his pieces are produced as series and follow a very strict creative process. Starting with images of his studio silkscreened on large aluminum plaques, the pieces are then piled up to receive an allotted quantity of paint, applied by spray or brush. Even though they are linked to each other, each tells a particular story and brandishes its own particular density. Each painting thus becomes the symbolic resumé of a particular point in time during an evolution dictated only by sequence.
His work is part of the following collections: Fonds National d'Art Contemporain, Paris; Whitney Museum of American Art, New York; Stedelijk Museum, Amsterdam; MOCA, Museum of Contemporary Art, Los Angeles; Dallas Museum of Art, Dallas.
Solo exhibitions include: As It Is, Feuilleton, Los Angeles/US (2020); Hakgojae Gallery, Seoul (2019); For Now And So, Misako & Rosen, Tokyo (2018); So Doing, Galerie Art Concept, Paris (2018). Group exhibitions: Did you close your eyes to make this painting?, BWSMX, Mexico City (2018); Unpacking: The Marciano Collection, Marciano Art Foundation, Los Angeles (2017); CHOICES, Palais des Beaux-Arts de Paris, Paris (curator: Alfred Pacquement, 2015); Beware Wet Paint, Fondazione Sandretto Re Rebaudengo, Turin (curator: Gregor Muir, 2014).
At the gallery
Downloads