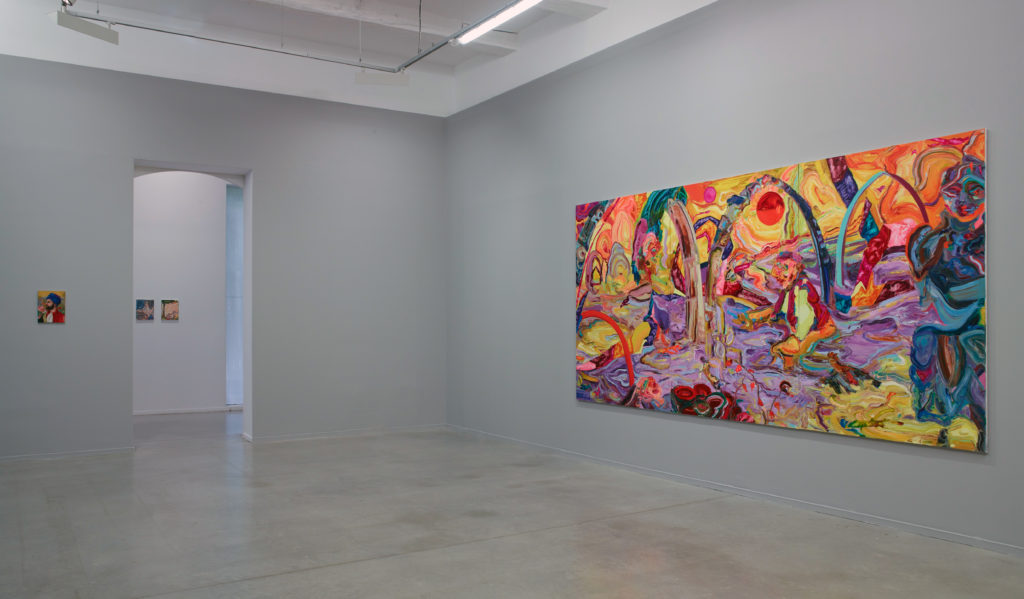 Biography
Born in 1991 in Damascus, Syria, Miryam Haddad has been living and working in Paris since 2012.
Miryam Haddad's artwork discloses, for anyone willing to look closely, a thrilling adventure: that of a very young artist who harbours two equally intense words: the abstract world of writing that conveys a message, and the incarnated world of painting that invites us to share an emotion without recourse to speech. Miryam Haddad's works are like aurora borealis caused by the collision of solar particles from her native East Orient with the terrestrial atmosphere and magnetic fields of painting as practiced in Europe and America, and their radiance does not happen by chance.*
Her work is present in the following collections: Aïshti Foundation, Beyrouth/ LB; Institut du Monde Arabe, Paris/FR; FRAC Auvergne, Clermont Ferrand/FR.
In 2021, her solo exhibition at the Frac Auvergne, Clermont Ferrand/FR led to the publication of her first monograph. **
In 2019, the artist was the laureate of the Jean Francois Prat prize, had a solo show at the Collection Lambert in Avignon and was selected to create the poster for the 73rd Festival d'Avignon.
Her work has recently featured in the following group exhibitions: Immortelle, Mo.Co Panacée, Montpellier (2023); Entre tes yeux et les images que j'y vois, Fondation Pernod Ricard, Paris/FR (2022), Le Printemps de septembre, Toulouse/FR (curator Christian Bernard) (2021); J'aime, Je n'aime pas, Eigen + Art, Leipzig/DE (2020); Tomio Koyama gallery, Tokyo/JP (2020); Prix Jean-François Prat, Fondation Bredin Prat, Paris/FR (2019); Globe as a Palette, Hokkaido Obihiro Museum of Art/JP (touring Kushiro Art Museum, Hokkaido, Hakodate Museum of Art, Sapporo Art Museum, Hokkaido) (2019); Jeunes artistes en Europe – Les métamorphoses, Fondation Cartier, Paris/FR (2019).
* Extract from Didier Semin's text «Têmpete Solide» in :
** Miryam Haddad, Texts by Didier Semin and Jean-Charles Vergne, published by FRAC Auvergne
At the gallery
Vidéos
Downloads